The competition is severe.
There are approximately 1.5 million JD holders in the United States, with 1.34 million licensed to practice law. Of these, roughly 354,000 attorneys are solo practitioners.
The market is flooded.
The Bureau of Labor Statistics projects 43,800 new jobs from 2014 to 2024. They also project an additional 113,900 jobs due to retirements, deaths and additional vacancies for a total of 157,000 jobs. Here's the problem. ABA-accredited law schools produced 43,832 new graduates in 2014 alone.
You see the problem right? That's 2.78 graduates per job.
Too many graduates vying for the same work.
Competition is inevitable.
If you're looking for a job, you'll face the same kind of stiff competition I mentioned earlier. Prefer to start your own business straight out of law school?
You can do it.
You'll face a significant amount of pushback from naysayers and skeptics. People who believe you'll need to spend five to seven years working for another firm to "gain experience." This isn't particularly helpful as practice areas are typically decided for law students.
They take the best job or position they can get.
Let's say you started as a real estate transactional attorney. You've done this for the last five years (with zero litigation experience). Now you'd like to become a litigator. It's going to be difficult to land a position as a litigator.
See what I mean?
It's not as simple as changing your practice area once your career has been established. If you're starting your own law firm straight out of law school you'll need to choose your practice area. Believe it or not, this is an incredible opportunity. You get the chance to chart the course of your career!
Here are a few simple guidelines to follow.
Choose a practice area that interests you. Interest determines attention. Attention, specifically the level of attention exerted, determines the quality and longevity of your work overall. The obvious point here is this: it's much harder to do a good job when you hate your job.
Verify that there's an appropriate level of supply and demand. In the 1990s market conditions forced most law school students to choose litigation as a practice area instead of corporate or transactional law.
Make sure you have the required skill sets. You'll want to analyze your personality and temperament, academic and/or professional credentials (i.e. a patent attorney with an engineering undergraduate degree) ahead of time before settling on a particular practice area.
Here are a few additional primers on choosing the right practice area(s).
What about setting up your law firm?
Once you've determined the name, legal structure, and focus of your law firm you'll need to create a firm foundation. This is the core component most attorneys miss. Your new firm needs structure, in the form of systems and procedures, to survive.
These are the fundamental components you'll need (in order of importance) to build a successful legal practice.
Financial management. You'll need positive cash flow and strict financial controls governing how money is handled in your firm, who has access to what and when. You'll need concise, actionable reports delivered daily, weekly, monthly, quarterly and annually.
Communications management. This is a catchall term that describes business development, sales and marketing. Communication is how your firm attracts new leads and clients. Poor communication = a cash poor legal practice.
Legal management. Your area of expertise. This area covers office lease or purchase contracts, intellectual property protection and agreements, loan documentation, compliance issues and more.
Systems management. Systems run businesses. Systems codify the education and information inside your head. It gives future employees, freelancers and support teams the instructions they'll need to help you grow, manage and maintain your law firm. Quality and performance management is impossible without systems management.
Service management. Your service is what your customers pay for. It seems important, and it is. But it's the least important part of your business. Most solo and small firm practitioners focus their attention exclusively on their service. Good service is unsustainable/impossible without the first four components I've mentioned.
Read this post for a detailed and comprehensive breakdown of these components, and the components you'll need to establish a healthy and stable law practice.
Here's the thing about these components.
Setting up these components properly is much easier when you're working with real, money-in-hand clients. Let's focus our attention there first.
What's the secret to winning your first client?
Is it money?
Attorneys with deep pockets tend to throw money at the problem which, as you might expect, doesn't work all that well. Inexperienced firms rely on the usual channels – advertising, marketing, speaking, etc. These strategies work best when they're part of a cohesive strategy. When they're not, these strategies tend to feel like a money pit.
Are they though?
Not at all, not when They're focused on the right strategy. In fact, business development is easy when our focus is in the right place. What's the right place?
Platform building.
As I mentioned previously, there are really only two ways to drive prospective client traffic to your firm.
Traffic from existing platforms. These are people, organizations, influencers and tangential sources who have already built a platform of their own. Their audience is hungry, desperate for the value you provide. Feed their audience and their platform becomes yours.
Traffic from a platform you build. You build, manage and maintain your own platform from scratch via your very own marketing campaigns. You create business development content that attracts and segments visitors. You build everything around your audience.
Here are some business development strategies you can use to create a thriving platform for your young law firm. These strategies rely on two things: (1.) traffic from existing platforms and (2.) influentials, powerful kingmakers with influence and reach.
Strategy #1: Writing for influentials
This is the easiest way to begin the conversation with clients. It's writing for other publications, influentials who need content. The platforms you turn to on a regular basis for education? They need your knowledge and expertise.
These publications should meet 3 criteria.
Publications with authority. The ABA Journal, National Law Journal and The Hill are all authoritative, attorney-focused publications. The Wall Street Journal, New York Times, Washington Post, CNN, Time and The Harvard Business Review are all consumer-focused publications. Writing for these authoritative publications boosts your authority and prestige, providing you with a greater amount of influence and reach.
Publications with traffic. Publications like The American Lawyer, Law Technology Today and Trial Magazine are attorney-focused publications. Business Insider, Entrepreneur Magazine, Fast Company, and other high traffic sites are consumer focused.
Publications with opportunity. These are specialty publications that provide you with opportunities to win new business. In house counsel publications such as ACC Docket and Inside Counsel are attorney-focused examples. Key partnerships with any of the publications listed above (and those not listed) may also provide significant opportunity.
These broad examples are helpful cues you can use to get things started.
Strategy #2: Interviewing with influentials
Be the permanent guest.
Radio shows, podcasts, and discussion panels are always on the lookout for credible experts (you). They need important, educational content to feed their audiences. You're going to be a guest on these radio shows, podcasts and discussion panels.
What does this look like?
Divorce attorneys share legal, marriage and relationship advice, helping clients to protect their assets
Business attorneys share a never-ending stream of advice for startups and small businesses
Tax attorneys share entertaining investment, tax and legal advice with homeowners and house hunters
You're looking for the overlap.
Their topics + your expertise = extraordinary results
See what I did there?
You can peruse the list of radio stations and podcasts in the United States. Once you have a list of targets, work on creating a pitch, follow-up offer, product and intake process.
Then, get to work!
Strategy #3: Teaching with influentials
This strategy is one of the best ways to attract a significant amount of attention from prospective clients. Here's how it works. You partner up with influentials to teach an audience. It could be their audience, an audience influentials have signed on to teach or a cold audience.
It doesn't matter.
Here's what does matter. The content. You'll need to provide influencers with meaty, in-depth, long-form content that scratches a particular itch.
What does this look like?
If you're a…
See where I'm going with this?
Good.
You're looking for tangential organizations (or people) with a large pool of potential clients you can serve. Next, you'll want to provide them with educational tools and resources they can use to serve their audience. Finally, you'll want to make their audience yours by creating lead magnets.
What do I mean by a lead magnet?
A lead magnet can be a free or paid product, tool, service, quiz or app. It's a helpful resource that meets the following criteria:
It shows clients you understand their specific problem
Shows you know why it's a problem and what the consequences of ignoring the problem will be
Demonstrates your ability to solve that problem, permanently
Gently shows clients their inability to solve their problem
Gives clients important next steps to contact you/request help
Lead magnets attract attention, create interest, stoked desire and motivate action. They're helpful tools you can use to quickly build trust, rapport and consensus with prospective clients.
Strategy #4: Public speaking via influentials
That's attorney Emil Ovbiagele of OVB Law & Consulting S.C. According to his attorney profile, he was admitted to the Bar in 2014. Yet here he is, as a young attorney, posting videos in an official capacity for the Wisconsin Bar Association.
How did he do it?
He did it with relationships. To become an effective public speaker you'll need to build relationships that are contingent on value.
How exactly do you do that?
You use Peter Thiel's value formula. I mentioned this in a previous post but it's worth repeating so I'll briefly recap the formula here.
Create X dollars of value for your state bar association
Capture Y percent of X.
What's the first step of creating value?
The pitch.
You identify a problem, need or desire your influencer needs to be solved. Maybe they need more educational content for their audience, maybe they're looking for experts to share their insights on a popular or trending topic. Make it your goal to identify and solve their problems.
Send them an email with your pitch. Here's an example: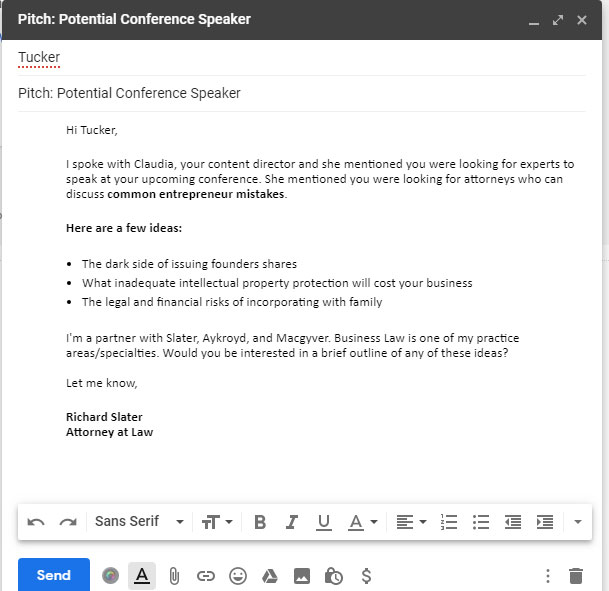 [Hi Decision maker],
I spoke with Claudia, your content director and she mentioned you were looking for experts to speak at your upcoming conference. She mentioned you were looking for attorneys who can discuss [topic].
Here are a few ideas:
I'm a partner with [Firm], and [topic] is one of my practice areas/specialties. Would you be interested in a brief outline?
Let me know,
[Your Name | Signature]
It's concise, focused and all about them.
Remember the steps I mentioned in strategy three? You can use the same exact process for public speaking or you can use it to identify areas where you can add value. Once you're finished speaking provide listeners with a follow-up offer (consultation, assessment, lead magnet, etc.) at the end of your speech.
Capture their contact info and follow-up where appropriate.
Strategy #5: Take care of your influencers and their audience
It's a hidden business development strategy most attorneys ignore.
People are sensitive.
It's a wise idea to assume that your influencers, clients, peers and coworkers are all sensitive to the same things. We're all a bit sensitive to:
Insults
Threats
Bullying
Abuse
Humiliation
Use these tools sparingly if at all. The circumstances that require these strategies are exceedingly rare. It's not as easy to avoid making these mistakes as you might think.
It's actually quite common.
People around you are often offended by things you aren't even responsible for. Some of these people may cast blame, secretly nursing a grudge.
Here are some straightforward ways to avoid making that mistake:
Don't ghost or ignore people. Ignoring texts, emails and instant messages harms the relationship. Silence is the worst insult possible. It trains those around you to fill in the blanks. Which of course means they'll assume the worst.
Don't assert your power over others. At any given time, and in any given conversation, one person will always be more successful than another. Casually mentioning the large bonus check you received stings when the associate you're talking to didn't get one.
Pay your debts. Most people collect relational and social stamps. They do good with the expectation of return. What's worse, the value of the good deed goes up in the giver's mind and down in the recipient's. Consistently expressing gratitude for the things others have done for you. It's a simple and easy way to avoid resentment due to social and relational debts.
Don't waste their time. It's important to zealously guard your time. It's just as important to guard the time of those around you. Simply saying "I don't want to waste your time" in a conversation is enough to let people know you value them personally and you value their time.
Don't think they're okay with it, just because you are. Your values aren't their values. People have their own way of doing things. Imagine that an associate decided to borrow several items from your desk without asking because they'd be okay with it. Then, when confronted, they mentioned it's not a big deal and told you to let it go? Infuriating right? That's how many people feel with this assumption.
It really comes down to this.
Know your audience. If you're a junior partner, be aware of the fact that senior partners may be condescending from time to time. Interns may fawn all over you, eager for any of your attention. Prospective clients may feel intimidated and express false bravado.
There's a simple rule you can follow to take care of your audience.
Build them up.
That's pretty straightforward, right? This doesn't mean you morph into a brownnoser. It also doesn't mean that you accept abusive or dysfunctional behavior.
Acknowledge their value, as a human being, as equal to your own.
Some people are driven by agreeableness and social pleasantries. Others loathe chit chat preferring that you "get to the point."
Do so.
Meet people where they are.
Did you catch the secret to launching a successful law firm?
It's serving.
Intense competition, the number of graduates vying for the same work, scarce opportunities – it all stops mattering when you focus on serving others. It's the secret to high-performance business development.
Build a platform.
Find the people, organizations, influencers and tangential sources who have already built a platform of their own. If they have a platform their audience is hungry, eager for the value you provide. Feed their audience well and their platform becomes yours.
The usual channels – advertising, marketing, speaking – these strategies work best when they're part of a cohesive platform building strategy. Start today, work consistently and you'll find competition is largely irrelevant.