TIME FLIES PART ONE: A SERIES ABOUT MOBILE BILLING AND TIME-TRACKING
Tablets and iPads stopped being a fad in 2012 – and today, any professional without a tablet in their briefcase is a dinosaur waiting for extinction.
Whether you're an attorney still figuring out how to plug technology into your workflow or a savvy consultant answering calls from your smartwatch, these less-than-2-pound computers are a window into new world of productivity you need to explore.
Tablets are the middle ground. They're more powerful than a smartphone and more portable than a laptop. They also could revolutionize your accounting and time-tracking, especially with Bill4Time Mobile for the iPad.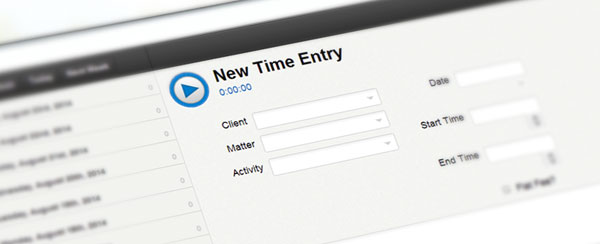 TRACK TIME AND EXPENSES ON THE GO
Ever traveled for business? Ever wish you hadn't?
Anyone who asks why you don't like traveling has never experienced the hassle of using paper receipts and emails to reconstruct your business expenses and time-tracking. It's a forensic nightmare, like CSI for eating out – only discover you're the (budget) killer.
What if you could log those hours and expenses at the moment they occur? That's the power of Bill4Time Mobile.
For tablets, it's even better. Use the iPad app to create internal time entries, those detailed entries that prove you're a force to be reckoned with.
When you're a one-person operation the tablet version of Bill4Time Mobile can save you hours of menial reconstruction when you're supposed to be off the clock. When you lead a team, Bill4Time can grease the wheels for your operation.
If you're in transit and remember an expense you forgot to log, tap-tap-tap – and you're done. On a flight while doing the research you get paid for? Tap-tap-tap – and that time entry is now in Bill4Time, waiting to synchronize with your account as soon as you get back to an internet connection. Having one of those late meetings over a glass of wine that changes the scope of your project? Tap-tap-tap – pull up similar projects to sharpen the accuracy on your ballpark estimates.
It's as if you've got an assistant by you at every moment, logging any hours you spend working and tracking every expense occurred in the process.
Now that travel and being out of the office is such a breeze, the only question left is why stay in the office?
Download Bill4Time Mobile Today!