Within your Bill4Time plan you can customize the types of wording and phrases to suit the needs of your company. If you go to Settings – System tab you can edit the settings to view and edit your Mnemonics.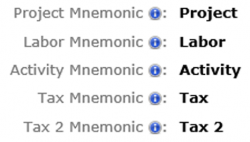 Your Project Mnemonic can be changed from Project to Matters, Cases, Tickets, or whatever terminology you use. Your Labor Mnemonic can be changed to Services, Services Rendered, etc. You have your Activity Mnemonic which can be changed to Task, Categories, etc. Lastly, you have your Taxes. You can use these mnemonics to change your "Tax" text or use them as an "Admin Fee" which you can setup on the firm level or per client.
For further customization in your Settings you can update your Custom Lists to change the different Types you will see throughout the system.
At Bill4Time, we offer the features you need…and most of all, the features you use. Easy to use, dependable and designed with you in mind—that's Bill4Time. If you haven't tried us, register for a free 30-day trial and see for yourself.