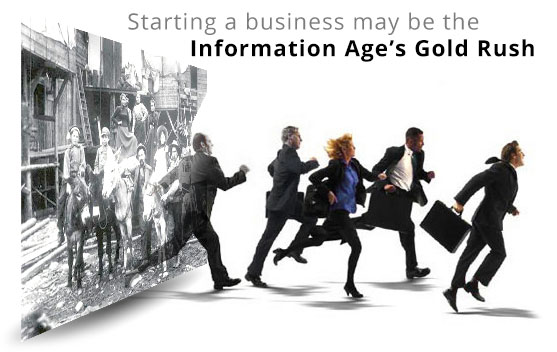 New tech start-ups bloom online, smart moms swing the economic trends (link) and in the 2014 State of the Union address, President Obama suggests the future may be freelance (link).
Whether it's a one-woman PR office, a professional turning consultant or a graphic designer deciding to take his fate into his own capable hands, many brave souls are packing up their security and striking out.
If you're reading this, you probably know the feeling. You should also know you're not alone.
BUSINESS SURVIVAL
SKILLS
In 1849, smart Argonauts hired experts who knew the pitfalls and how to avoid them.
Survival in this new gold rush depends on you mastering the billing side of your business. If you've got the skills and the clients, poor time tracking and billing could be the pitfall that costs you the most. That's also where having the savvy of a billing and time-tracking system really pays off.
We can be tempted to ignore the cost of a business lunch because we want to leave a good impression or the hours spent on a project because they were scattered over a day. Made rarely, these decisions can discover new roads. However, if made regularly, these decisions can sink your operation either by not charging for services or, worse, by overcharging.
Instead, sticking to a system for billing and time-tracking boost your survival rate – and your credibility with your clients.
PANNING 4
SUCCESS
Early in the gold rush, 49ers could pluck gold nuggets out of the river bed and off the trails. Shortly after the rush, gold diggers had to make small, slow gains by panning and mining.
Likewise, you can try to solve financial issues by searching and working hard for that one lucky strike. "Lucky strike" clients are obviously rare. Worse, they're notoriously hard to identify. You may spend hours (heaven forbid, unbilled hours) trying to get to payday.
Instead, the steady, disciplined work of using a billing system ensures your efforts are rewarded.
Want to hear the successes from fellow Bill4Timers? Check out our testimonials page.
Related post – 4 Reasons I Had To Track Small Expenses