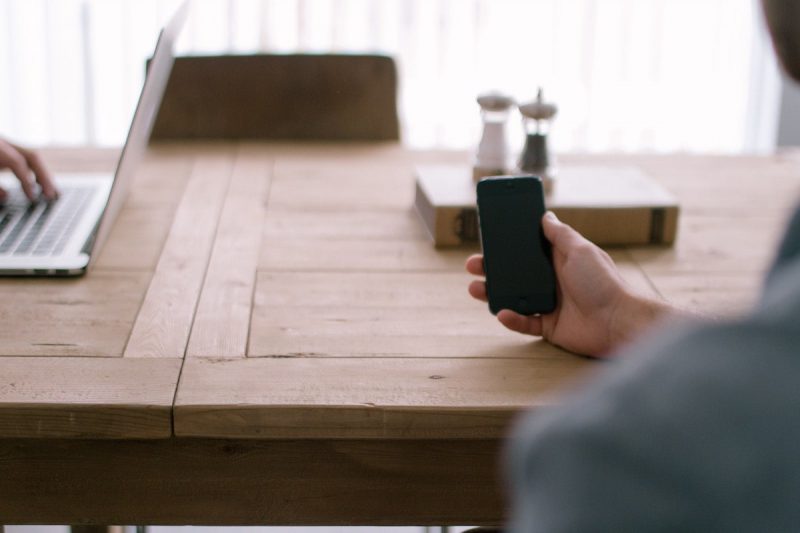 Are law firms created equal?
Can anyone adopt the tools and resources used by any BigLaw or B2B firm? If you're running a boutique law firm you already know the answer.
It's a resounding No.
Speak with an experienced law firm, boutique or otherwise, about their technology requirements and you'll stumble across a more confusing question.
How do law firms approach their technical needs?
With a cut and paste solution.
Typically.
Attorneys know law firms aren't created equal yet many adopt a cut and paste approach to their security and technology needs. This tends to be a fairly common occurrence.
Why is that?
It's not because attorneys are behaving foolishly or irresponsibly. And it's obviously not due to a lack of intelligence. Why then, is it so common for firms to approach their technology and security needs with a one-size-fits-all approach?
It all boils down to training.
If law firms aren't aware of their technology needs and requirements are far more likely to choose a cut and paste solution that best fits their needs. Because for most, the question doesn't actually matter.
Just choose a solution that works.
Doesn't this apply to both B2C and B2B firms?
No, it doesn't.
B2B law firms are better at addressing their technical needs appropriately, at least initially. If they're interested in winning large contracts or negotiating profitable fee arrangements their approach needs to be precise.
What's the difference here?
B2B law firms have to be more technically precise because their discerning clients require that. When you're selling to businesses, you're dealing with teams of people each with their own set of skills, competencies and abilities. Which, as it turns out, makes all the difference.
Does this mean B2B firms have their act together? That they're consistently able to identify their technology needs and requirements?
Not so much.
The difficulties are there regardless of the niche, size or practice area of a particular firm. These technical dependencies are still there, they just create a different set of problems for each firm segment.
Here's what I mean.
BigLaw typically has a large suite of software. They're technically diverse, they have a team of competent technologists on staff and they're able to determine their needs. Many of these law firms are running homegrown or highly customized technology that's incredibly outdated and very difficult to maintain.
Small and solo firms attempt to do everything manually. In the beginning, many of the partners or owners of these firms attempt to handle anything and everything themselves. They aren't outsourcing their problems to a suite of technology tools they're trying to do things cheaply and manually.
Boutique firms occasionally struggle with an all or nothing approach. Some of these firms prefer to look for technology solutions that are tailor-made to their specific niche or practice area. If they find it great, but what if they don't? They either go without or use an inferior solution. Both options hurt their firm in the long-term.
Why does this matter though?
At the end of the day, isn't lawyering all about doing high-quality work? Generating outstanding results for your clients and your firm?
Nope.
Don't misunderstand, high-quality work and outstanding results are exactly what your clients are looking for. These are your client's explicit needs.
It's only half the equation.
The other half? It's about producing the best work possible, at an incredibly reasonable price in as short a time as possible. These are your client's implicit needs.
Here's why this matters.
Your clients expect you to outperform last year's results. To achieve more in less time and with less money. At first glance, this seems unfair until you realize the truth about your client's situation. Your B2C and B2B clients, your big law, small/solo and boutique firms are all under pressure to meet these explicit and implicit needs.
The market has changed.
Your B2C clients are being hammered by inflation, shrinking paychecks and high prices eroding their savings/disposable income. This trickles up to your B2B clients who are struggling with high labor costs that erode corporate profits.
Here, take a look.
Next, look at how this affects businesses.
The data is there.
This isn't cause for alarm but it does mean you need to be cognizant of the circumstances your clients are facing.
Wait a minute.
What does this have to do with the technical needs of a B2C or B2B law firm?
Your technical needs are tied to your client's circumstances
Here's one example.
Primary research found attorneys were still using inadequate methods to track their time.
34%of attorneys kept logs on paper
45%used desktop computers via spreadsheets
06%used laptops
48%used a tablet pc
96%used a smartphone
And if they're away from the office?
27%kept their logs in paper
4%used their laptops
81%their tablets
02%used their smartphones
You read that right.
As we've seen previously, this creates a significant amount of billable leakage. Under an overbilling becomes a problem as firms struggle to stay competitive.
Remember what your clients want?
They expect you to outperform last year's results. They want you to achieve (bigger and better) more in less time and with less of their hard-earned money.
Does this mean they're cheap?
That they're unwilling to pay for your services or your expertise?
Not at all.
What is all of this mean then? It means…
Your clients expect more value for their money
Their requirements are easy to intuit.
You have a clear idea of what your clients are looking for you'll have a clear idea of the technical needs your firm has – whether you're a B2C or B2B law firm.
First the basics.
What specifically does your law firm need? Your firm needs well thought out and properly conceived tools and resources that are up-to-date.
Practice management software
Document management and retention
Client communications
Timekeeping, billing and invoicing applications
Secure video conferencing
Network security and password management tools
Dictation and transcription tools
eDiscovery tools
Remote desktop/network administration tools
Marketing automation
Why does this matter?
Firms with the best technology outperform their peers. A law.com survey found there's a strong correlation between firms with the best technology and top performing firms overall. These firms are able to attract more clients, take on more work, get more done and outperform their peers.
Now we differentiate.
If we're analyzing B2B law firms they're interested in:
Maximizing value versus payment. They're looking for 1:1 or 2:1 return. How does this translate to a technical need?
You'll need a client portal solution that enables you to communicate with clients
You'll need tools that properly delineate the attorneys and support teams working on a client's matter. Are they paying for junior attorneys to learn or is there matter receiving the appropriate amount of attention from an experienced and highly qualified attorney?
Minimizing liability and risk. They want and third-party providers to be compliant, responsive and secure. Is your timekeeping tool compliant?
Is your billing, timekeeping and invoicing tool of choice LEDES compliant?
Can your firm work with the UTBMS activity codes automatically?
Can your practice, document and billing management tools keep up with state/local requirements?
Are you able to store confidential client documents securely so they don't end up in your associates personal Dropbox account?
Can your suite of tools meet your client's stringent security and compliance demands?
Are you able to automate your client's billing and/or timekeeping guidelines?
Clear data, transparent communication. You want their firms to comply with billing guidelines, appropriate regulations, local laws, etc. If you are relying on timekeeping software, for example, you'll want to add specific and detailed breakdowns to invoice line items. You'll use tools that don't force you to rely on block billing.
Can your associates access data securely whether they're in or out of the office?
Do client communication protocols follow legal security guidelines (e.g. HIPAA, ISO 27001)?
Getting the right outcomes delivered on-time and in-budget with no spin or unpleasant surprises. Clients don't want to be blindsided with unexpected details or arrangements.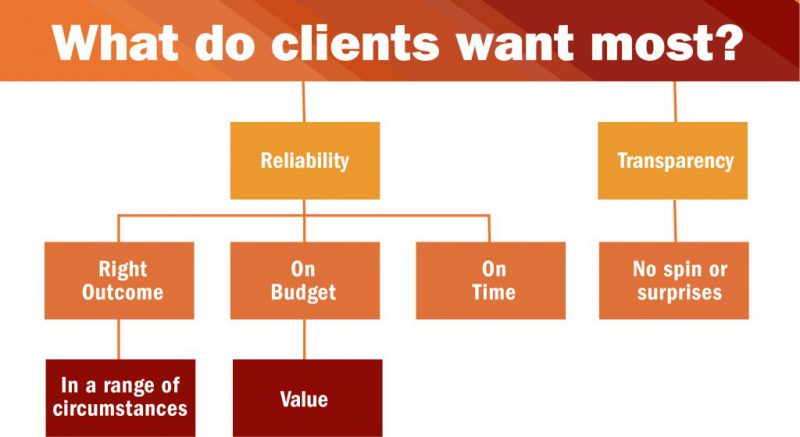 What about B2C law firms? What are they interested in?
Maximizing value versus payment. This is less about return on investment and much more about two important details (a.) getting the right outcomes and/or (b.) making their problems go away, permanently.
Consistent, clear and transparent communication. Just as most customers are unable to properly evaluate or manage their mechanic's work, B2C clients are simply unable to monitor the progress made on their matter. This makes them especially uneasy.
Can you see what's happening?
As a general rule, your B2B clients require more of everything. You're paid more because the requirements and expectations are typically so much higher. Your technical needs need to be optimized around security, privacy, and risk/liability reduction. The value you provide, it's typically optimized around a return – whether that's profit, savings or growth.
Your B2C clients on the other hand view outcomes and transparency/communication as primary motivators. These needs dictate your firm's technical needs. These technical needs should be optimized around two factors (1.) achieving outcomes and (2.) minimizing gotchas and unexpected surprises.
Technical needs, they're really about your client's needs
Which is precisely why law firms aren't created equal.
Adopting the correct mix of tools and resources shapes your firm's ability to serve your clients. Most firms take a cut and paste approach to their technical needs.
It isn't their fault.
It's not because attorneys are behaving foolishly or irresponsibly. And it's obviously not due to a lack of intelligence. It all boils down to training.
Most firms don't know any better.
You do.
Your technical needs, in reality, they're all about your client's needs and circumstances. High quality work, outstanding results, this is simply the baseline. Winning firms, they're technologically superior. They have to be to win.
They address their client's explicit and implicit needs.
Firms with the best technology, they win in the end. They're able to win more clients, take on more work and outperform their peers.
You can too.
With the right suite of tools, you have everything you need to outperform your peers. B2C? B2B? It isn't a challenge for you. Solve your technological challenges and you'll have the toolset you need to become one of the very best.