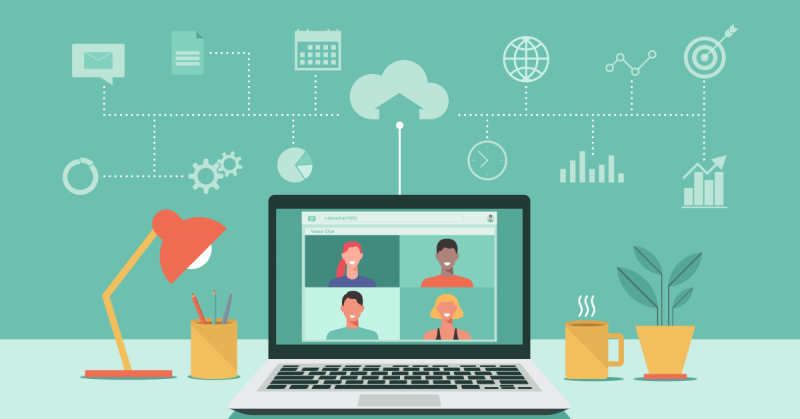 If you're like most law firms in the country, you've experienced remote work; you have a sense of how it works for law firms like yours. What many firms don't know is how to track and improve the performance of their remote teams.
We're going to start there today.
I'm going to give you a brief overview of the skills, tools, and resources you'll need to track and improve the performance of your remote teams. You'll find you're able to outperform your competitors and even your previous performance benchmarks with the right setup.
High-performance remote work begins with best practices
These best practices are important first steps that ensure your law firm will be successful. Here is a list of best practices you can use to build your remote work environment into the well-oiled machine it should be.
Select the right people: Building and maintaining employee engagement will be a bit of a challenge for a remote team. It's important that you choose employees who are highly conscientious, diligent, and reliable. You don't have the convenience that comes with in-house cubicle visits to produce results.
Select the right technology: Your technology, to a certain extent, will define the results your law firm can produce. Inconsistent methods like Excel spreadsheets or unreliable software means non-billable work will consume more of your time.
Communicate early and often: In a study of 1,100 remote employees, 46 percent stated that the most successful managers in their firm checked in frequently and regularly with remote employees. Communication is the lifeblood of a distributed workforce; the better your tools, the better your ability to communicate. Move as much of your communications online as you can so everyone is on the same page.
Make expectations explicit: It's easy for expectations to be fuzzy (i.e., I'll know it when I see it), implicit (i.e., you already know what I want), or unrealistic. When it comes to managing a remote team successfully, explicit expectations are mandatory to avoid rework, write-downs, and write-offs. Clear expectations are a must; remote workers won't be able to read nonverbal or implicit cues.  
Build and prioritize relationships with employees: One-in-four respondents said managers who insisted on some face time with remote employees were more successful. Meet in-person if you can, call, text, Skype, or meet up via Slack. Managers should invest the time needed to ensure their direct reports are supported and cared for. Partners typically aren't interested in prioritizing relationships with their direct reports, but it's a must-have if your remote workers will be successful in the long term.
Help employees define the space that works best for them: A good idea would be to provide all of your employees with a co-working stipend, supplies, and tools needed to create their ideal work environment. The better your employee's work environment, the better their performance will be on client matters for the firm. The better their performance, the more billables your firm will be able to produce.
These are the non-negotiables, they're foundational best practices that create longevity for your firm. From there, you'll need to monitor the tasks in your firm.
Monitoring tasks with a remote legal team
If you know what needs to be done, you're able to monitor progress, ensuring that each task is completed promptly.
Which tasks am I talking about?
Schedule meetings and appointments. You can use tools like Calendly to schedule meetings and appointments automatically with clients, so you're no longer playing phone or email tag.
Automate tasks and deadlines. Your mind is for creating, not holding onto ideas. Practice management software gives you a simple and straightforward way to execute tasks in a timely manner.
Automate time tracking to simplify billing and invoicing. Historically, attorneys aren't fond of time tracking.  Many attorneys despise filling out timesheets, which is why procrastination and billable leakage are so common. Automatic time tracking eliminates this problem for virtual law firms.
Complete client intake and follow up. Following up with clients is key. When clients reach out to you for help via your website, they want an immediate response. If you give clients what they want, you lose time. Creating an autoresponder sequence in MailChimp, which you can then use to set appointments in Calendly, protects your time.
Automate document assembly. This can be semi-automated and efficient. With macro–enabled templates, your team can create and assemble documents quickly and efficiently.
Manage bookkeeping action items. Accounting isn't a pleasant to-do item for many attorneys. You can automate bookkeeping and accounting.
Stay on top of client support. You should always be available. You should never be allowed to sleep. Some clients won't admit it, but many would like to receive updates 24 hours a day. With free chatbots, you can be available 24/7. Chatbots can be integrated with email and text campaigns.
Automate business development. There should be a steady stream of prospective clients flowing to your business. With the right systems in place, clients should be introduced to your firm, given a compelling reason to reach out to your firm and rewarded for doing so.
Integrate review management. Imagine the effect 800 five star reviews would have on prospects? Especially when compared with attorneys who have 10 or 12 reviews? If you're using a practice management platform that has review management built-in, you can create an autoresponder sequence that request reviews from happy and satisfied clients, automatically.
Does this sound like it's too much for partners or the business managers to handle on their own?
I hear you.
That's why you need a traffic manager.
A traffic manager has one main job to do in your law firm — ensure that all projects, client matters, and internal workflows efficiently to the various practice groups. Your traffic manager is responsible for keeping everyone in the firm on task and projects on deadline.
They handle all of the logistics
They keep everyone — clients, partners, associates, support teams, updated on the project or matter.
If they're doing their job well, workflows smoothly, and both the client and the professionals who did the work are happy with the end results. Your traffic manager should be on top of the tasks mentioned above; they must ensure that each of these areas is operating at maximum efficiency.
This sounds great… but a full-time hire is a serious commitment.
If you're concerned, you can hire a traffic manager, on a contract basis, to manage one or a few of these tasks. This allows you to identify whether you have the right candidate for the job, with minimal risk. No employment contracts, health insurance, or severance. Test a traffic manager out on the low-risk areas of your firm (e.g., scheduling, review management, business development, or client intake) to see if they're a fit.
A skilled traffic manager gives law firm leadership the time they need to focus on other more important problems — growing the firm, rainmaking, client work, anything they choose really.
Task management is the secret to remote work success
If you're like most law firms, you've experienced remote work; you have a sense of how it works for you. Most firms don't know how to track and improve the performance of their remote teams. You do. You have the know-how you need to monitor and improve the performance of your remote team.
Start there, take it slow.
Task management produces exceptional results; create the right environment, and you'll deliver the kind of extraordinary results your firm needs to thrive, no pandemic necessary.